Supported In:
C
D/S/W
W-CD
?
?
?
The scripting command SignTextLrg has the opcode (0x04).
Arguments
Description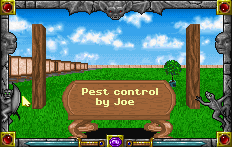 This operation draws the supplied string in the 3D game window. The text is drawn using the large font set, formatted and aligned so that it would appear over the top of a seat sprite. This opcode would only ever be used in events directly in front of a seat sprite. An example can be seen in the image to the right.
This is one of the few events that is automatically executed and does not need to be triggered by the player pressing the spacebar to interact with the event/object.
Notes
The functionality of this opcode is identical to SeatTextSml, except that it draws the text using the large font rather than the small font. See also DoorTextSml and DoorTextLrg.
Ad blocker interference detected!
Wikia is a free-to-use site that makes money from advertising. We have a modified experience for viewers using ad blockers

Wikia is not accessible if you've made further modifications. Remove the custom ad blocker rule(s) and the page will load as expected.